Experience Merlijn!
Curious about how Europe looks like from the water or the saddle of a bike?
Board the Merlijn and experience it your self, during a Bike & Barge river Cruise.
We would like to invite you to surf our website and read more about:
the magic
the tours
the Merlijn
the ambience onboard
the deluxe cabins
the kitchen
If you have any comments or questions please contact us by filling in our contact form.
What is the difference between 'Bike & Barge" and Bike, Barge & Cruise?
Some ship owners call it Bike & Barge, but we at Merlijn feel that term does not tell what a vacation aboard the Merlijn is all about!
Because in addition to cycling (Bike) and staying and dining on board (Barge), we also often sail with our guests on board. Imagine yourself enjoying the sailing during breakfast or after a strenuous bike ride, with or without a drink on one of our terraces.
That is what we mean by "Cruise".
The Owners
We are Coen & Cristina, here is a short introduction about us, the proud new owners of Merlijn.
A dream coming true, that is how we felt when we started of in april 2019. After working for years as Captains on big 5-star river-cruiseships (150 pax) we dreamed of something else; something smaller, more personal, specialized cruises, running our own business, the list of superlatives is long! We searched and had several ideas untill we coincidently ran into Merlijn. that was it, that was the ship that filled in all the blank spaces! We went a 100% for it, sold our first house, quit our jobs and moved to the Merlijn.
Coen

Captain, Engineer, Guestcontact.

Cristina

2nd Captain, Host, Chef.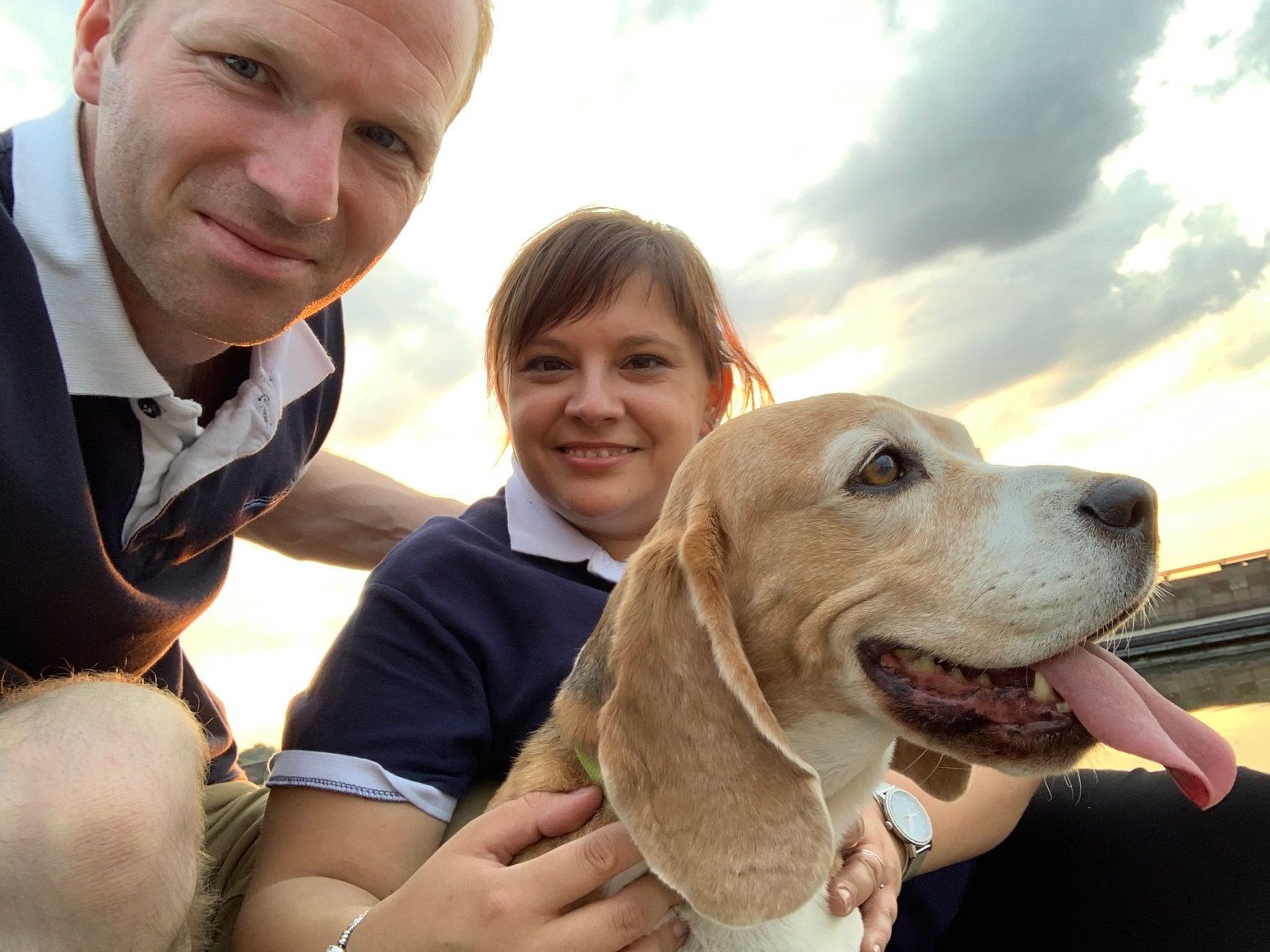 Merlijn and nature
Merlijn allows her guests maximum enjoyment by consciously letting you experience the natural surroundings we pass through. If trees are nature's lungs – then water is the source of life!
Merlijn wants her guests to actively appreciate the priceless quality of water and the magic it creates.
Merlijn's construction is as environmentally friendly as possible, and the same applies to its use.
Merlijn's toilets are flushed with river water in order to save drinking water and the waste-water is stored in a separate waste-water tank.
Merlijn's garbage production is minimized, separated and only disposed at designated places for that purpose.
Merlijn's airconditioning system uses a Heat-pump to generate cold air out of warm river water. Also it can produce hot air out of cold river water during the winter time.
Merlijn's power source are generators, a larger generator for day-time when more energy is requested and a smaller model for the night. This way, no energy is wasted.
Also the rest-heat of these engines is re-used to warm-up the shower water & cabin temperature.
We have taken full account of government regulations on the environment and energy consumption.
Vienna to Passau
September 03 - 10 / 2022