Terug naar overzicht
Premium Blauwe Donau reis in Duitsland & Oostenrijk
September 17 - 24 / 2022
Vertrekdatum: 17 september 2022
Gemiddelde fietsafstand per dag 30 tot 60 km
Hoogtepunten
Een van de nieuwste reizen die Merlijn aanbied, de enige kleinschalige Fiets & Cruise vakantie op de Blauwe Donau!'
Fiets & Cruise langs de beroemde Blauwe Donau. Dompel je onder in de Oostenrijkse cultuur, en geniet van alles wat dit land te bieden heeft. Neem de klassieke 'Donau Radweg' langs de rivier de Donau in het Noorden van Oostenrijk. Proef de traditionele Oostenrijkse lekkernijen bij lokale bakkers en een diner aan land. Een goede mix van fietsen en cruisen laat je met volle teugen genieten van de mooie Blauwe Donau. We bieden bijna elke dag een verscheidenheid aan routes, waardoor een ieder met een gezonde liefde voor het fietsen deze reis maken. Geniet van de inclusieve excursies zoals hoogtepunt 'Abdij van Melk' en een proeverij van lokale wijnen in het Wachau gebied.
Wilt u nog langer cruisen met de Merlijn? Deze reis is uitstekend te combineren met de opvolgende reis Passau - Nürnberg> Als u deze 2 reizen combineert zal de route van Vienna naar Nürnberg zijn.
De uitgebreide beschrijving is enkel in het Engels beschikbaar: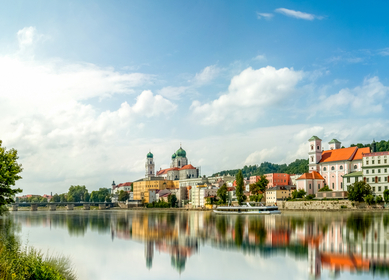 Vertrekhaven:
Vienna
Bestemming:
Passau
Reisduur:
8 dagen
Landen:
Oostenrijk, Duitsland
Gemiddelde fietsafstand per dag:
30 tot 60 km
Fiets & Cruise langs de beroemde Blauwe Donau. Dompel jezelf in Oostenrijkse cultuur. Een goede mix tussen fietsen en varen, om maximaal te genieten van deze omgeving.
Dagprogramma
Check in: 3:30 PM – 4:00 PM. After you check in, we'll present you with a welcome drink and introduce the crew. We will also provide information on the tour and the ship, and offer you a safety briefing. After you've got familiar with the ship, your dinner will be served, and following your meal, you will have ample opportunity to take a stroll through the city, as Merlijn will be docked in Vienna overnight. We can however heartily recommend spending a few days in this stunning city prior to joining the ship. Baroque streetscapes and imperial palaces set the stage for Vienna's artistic and musical masterpieces, alongside its coffee house culture and vibrant epicurean and creative scene. Don't forget to eat a traditional 'Sacher Torte' during your stay. A day trip to the Slovakian city of Bratislava is also within close range, and is certain to make your cultural heart beat faster.
Day 2 (Sun): Vienna – Korneuburg – Tulln. Bike tour: approx. 40 km - or shorten to 24 km
Day 3 (Mon): Tulln – Weissenkirchen. Bike tour: approx. 58 km
Day 4 (Tue): Weissenkirchen – Marbach. Bike tour: approx. 42 km
Day 5 (Wed): Marbach – Grein. Bike tour: approx. 30 km - or extend to 48 km
Day 6 (Thu): Grein – Mauthausen – Linz. Bike tour: approx. 36 km or extend to 45 km + 5 km optional
Day 7 (Fri): Linz – Brandstatt – Schlögen - Engelhartszell – Passau. Bike tour: approx. 30 km - or extend to 45 km
Your bike & barge cruise will include:
7 nights on board Merlijn
welcome drink
daily cleaning of your cabin
supply of bedding, towels, facial tissues, hand soap, soap, shampoo, sewing kit, vanity kit, bathrobe & slippers.
culinary care: 7 x breakfast buffets, 6 x packed lunches and 6 x 3-course dinners
coffee, tea and iced water
services of a tour guide
daily information about the trip of the next day
use of 27-speed bicycle, including a waterproof pannier, towel and universal helmet
we will provide you with your own water bottle
GPS-tracks on most routes
canal, bridge & harbour fees.
all ferry fares en route
ride with Pöstlingerbergbahn
entrance to Schloss Greinburg
wine tasting session with local wines
entrance and guided tour at Stift Melk
Your bike & barge cruise does not include:
1 x dinner
drinks other than those mentioned
inbound and outbound journey
city maps (though a few are available on board)
bike maps
insurance
gratuities
For your comfort, we rent out electric bikes at € 30 each per day, reservations in advance are advisable.
The general terms and conditions of Merlijn de magie van water B.V. apply to all bookings, offers and agreements. Please find them on our website under 'Terms & Conditions'.
Merlijn complies the General Data Protection Regulation to protect your privacy. Please find them on our website under 'Privacy statement'.
We reserve the right to modify schedule and/or program. If (part of) the route is not navigable due to weather conditions and/or other nautical reasons and/or is closed off due to circumstances and/or for safety reasons, the operator and/or the captain has the right to change the schedule. This includes changing the location of departure and/or arrival and temporarily suspending departure. Nautical and/or meteorological reasons are understood to mean, among others, weather conditions, the tide, obstruction of waterways/shipping lanes, and the condition of the ship. Closed off due to circumstances and/or safety reasons are understood to mean, among others, terrorism, diseases, natural disasters. Changes in schedule and/or program do not give the customer the right on free cancellation.
Terug naar overzicht
Berlin/Spandau naar Malchin
Juni 04 - 11 / 2022