Terug naar overzicht
Moezel & Saar 3-Landen tour
Duitsland, Luxemburg & Frankrijk aanraken
Oktober 23 - 30 / 2021
Vertrekdatum: 23 oktober 2021
Gemiddelde fietsafstand per dag 35 tot 45 km / Niveau: Gemakkelijk
Hoogtepunten
De uitgebreide beschrijving van deze reis is enkel beschikbaar in het engels:
Bike, Barge & Cruise the charming Moselle, touching three countries. Fall in love with the French countryside & the German mountains while cycling along the Moselle river on good bike paths - Taste the wines from Luxembourg while visiting a wine cellar - Explore the ancient French cities Metz & Thionville - Enjoy a guided tour in former Roman city Trier – Visit famous Bernkastel with its magnificent framework houses, 'black cat' city Zell & romantic Cochem – Climb the road to see the stunning castle 'Burg Eltz'.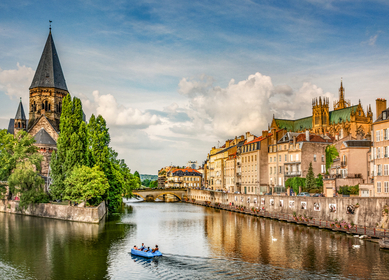 Vertrekhaven:
Nancy/Frouard
Bestemming:
Koblenz
Reisduur:
8 dagen
Landen:
Frankrijk, Luxemburg, Duitsland
Gemiddelde fietsafstand per dag:
35 tot 45 km / Niveau: Gemakkelijk
Fiets & Cruise langs de Moezel, in Duitsland, Luxemburg & Frankrijk. Word verliefd op het Franse platteland en de Duitse bergen. Wijnproeverij inbegrepen.
Dagprogramma
Day 1 (Sat): Nancy/Frouard - Dieulouard
Frouard is a small town (and the first port) just outside Nancy.
Check in: 3:30 PM – 4 PM We will offer a welcome drink and introduce the crew. We will also inform you about the tour, the ship and offer you a safety briefing. 5 PM Merlijn sails to Dieulouard, a tiny French town! After dinner you can enjoy an evening walk.
Day 2 (Sun): Dieulouard - Metz. Bike tour approx. 45 km
Day 3 (Mon): Metz – Richemont - Remich. Bike tour approx. 44 km or short route 35 km
Day 4 (Tue): Remich - Trier. Bike tour approx. 45 km
Day 5 (Wed): Trier – Mehring – Bernkastel – Traben-Trarbach. Bike tour approx. 45 km
Day 6 (Thu): Traben-Trarbach – Zell - Cochem. Bike tour approx. 35 km
Day 7 (Fri): Cochem - Koblenz. Bike tour approx. 40 km
Your bike & barge cruise includes:
7 nights onboard Merlijn
welcome drink
daily cleaning of your cabin
supply of bedding, towels, facial tissues, soap
culinary care: 7 times breakfast buffet, 6 times packed lunches and 6 times 3 course dinners
coffee, tea, hot chocolate and ice water
we will provide you with your own water bottle
service of a tour guide
daily information about the trip of the next day
use of 27-speed bicycle, including a bike bag, towel and helmet
canal, bridge & harbour fees.
wine cellar visit in Luxembourg
guided city tour Trier
entrance to Burg Eltz
Your bike & barge cruise doesn't include:
one dinner
drinks other than mentioned
inbound and outbound journey
city maps (though a few are available on board)
bike maps
insurance
gratuities
For your comfort we rent electric bikes for € 30 each per day, reservations in advance are advisable.
Terug naar overzicht