Terug naar overzicht
Rijn, Moezel & Saar 3-rivieren tour in Duitsland
Oktober 09 - 16 / 2021
Vertrekdatum: 09 oktober 2021
Gemiddelde fietsafstand per dag 30 tot 50 km
Hoogtepunten
De uitgebreide beschrijving voor deze reis is enkel in het Engels beschikbaar:
Bike, Barge and Cruise the Mighty 'father' Rhine, charming 'daughter' Moselle and beautiful Saar rivers. Visit the charming town of Rüdesheim – 'black cat' city Zell – famous Bernkastel – Roman city Trier – Little Venice Saarburg. Cruise along 'the Romantic Rhine' with its Lorely – the Moselle with its vineyards – the Saar surrounded by mountains. Bike along these rivers and enjoy an included wine tasting at the well-known winery 'Storck'.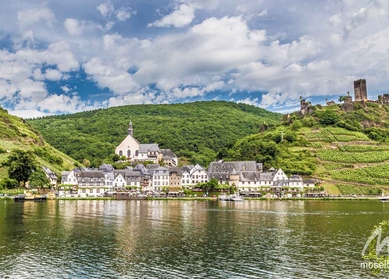 Vertrekhaven:
Mainz
Bestemming:
Merzig
Reisduur:
8 dagen
Landen:
Duitsland
Gemiddelde fietsafstand per dag:
30 tot 50 km
De Machtige 'vader' Rijn, charmante 'dochter' Moezel en prachtige Saarrivieren, allemaal gecombineerd in één Bike & Barge cruise. Wijnproeverij in de wijnmakerij Storck incl.
Dagprogramma
Day 1 (Sat): Mainz - Rüdesheim
Check in: 3:30 PM – 5 PM Merlijn sails to Rüdesheim, where we stay overnight. We will offer a welcome drink and introduce the crew. Also we inform you about the tour, the ship and give you a safety briefing. Dinner will be during the cruise. After dinner there will be a change to stroll thru Rüdesheim, a charming town along the Rhine.
Day 2 (Sun): Rüdesheim – St. Goar – Koblenz. Bike tour approx. 40 KM
Day 3 (Mon): Koblenz – Alken – Cochem. Bike tour approx. 40 KM
Day 4 (Tue): Cochem – Zell – Traben Trarbach. Bike tour approx. 40 KM
Day 5 (Wed): Traben-Trarbach - Bernkastel Kues – Mehring - Trier. Bike tour approx. 45 KM
Day 6 (Thu): Trier – Saarburg. Bike tour approx. 25 or 55 KM
Day 7 (Fri): Saarburg – Merzig. Bike tour approx. 32 KM
Your bike & barge cruise includes:
7 nights onboard Merlijn
welcome drink
daily cleaning of your cabin
supply of bedding, towels, facial tissues, soap
culinary care: 7x breakfast buffet, 6x packed lunches and 6x 3 course dinners
coffee, tea, hot chocolate and ice water
service of a tour guide
daily information of the trip on the next day
use of 27-speed bicycle, including a bike bag, towel and helmet
we will provide you with your own water bottle
canal, bridge & harbour fees
entrance to castle Eltz
wine tasting Traben-Trarbach
Your bike & barge cruise doesn't includes:
one dinner
drinks other than mentioned
excursions other than mentioned
inbound and outbound journey
city maps (though a few are available on board)
bike maps
insurance
gratuities
For your comfort we rent electric bikes € 30 each per day, reservations ahead are advisable.
Terug naar overzicht