Terug naar overzicht
Rijn & Neckar Premium 2-rivieren tour in Duitsland
Fiets langs de geweldige, met natuur omgeven, rivier Neckar!
September 18 - 26 / 2024
Vertrekdatum: 18 september 2024
Gemiddelde fietsafstand per dag 25 tot 55 km / Level: Easy
Hoogtepunten
De uitgebreide beschrijving voor deze reis is enkel in het engels beschikbaar:
Bike, Barge and cruise the mighty Rhine and charming Neckar river. Surrounded by mountains, vineyards and castles you will cycle your way thru Germany's best kept secrets. Visit the romantic cities of Mainz, Worms, Heidelberg, Heilbronn and more. Included excursion to a vineyards with wine-tasting and a guided city tour.
Our guides scale this tour higher than the well-known and similar trips along the Moselle River. The Neckar River is less known but according to reports; more beautiful, more attractive cycling routes, more nature, more castles and less touristy.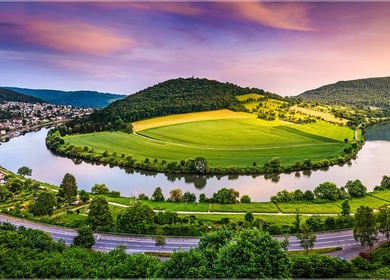 Vertrekhaven:
Mainz
Bestemming:
Ludwigsburg
Reisduur:
9 dagen
Landen:
Duitsland
Gemiddelde fietsafstand per dag:
25 tot 55 km / Level: Easy
Omgeven door bergen, wijngaarden en kastelen fietst u door de best bewaarde geheimen van Duitsland. Excursie naar de wijngaarden van Nierstein met een wijnproeverij inbegrepen
Dagprogramma
Check in: 3:30 PM – 4 PM. We will offer a welcome drink and introduce the crew. We also inform you about the tour, the ship and give you a safety briefing. Mainz is known for its spacious squares, lovingly restored half-timbered houses and magnificent Baroque churches that lend the old town a "gemütliches" (charming) character. You can explore it during an after-dinner stroll, because we will stay here overnight.
Day 2: Mainz – Nierstein. Bike tour approx. 25 KM
Day 3: Nierstein – Worms. Bike tour approx. 55 KM
Day 4: Worms - Ladenburg. Bike tour approx. 42 KM
Day 5: Ladenburg - Heidelberg. Bike tour approx. 15 KM - or extend to 45 KM
Day 6: Heidelberg - Eberbach. Bike tour approx. 32 KM
Day 7: Eberbach - Heilbronn. Bike tour approx. 55 KM - or short tour 18 KM
Day 8: Heilbronn – Marbach - Ludwigsburg. Bike tour approx. 55 KM
Your bike & barge cruise will include:
8 nights on board Merlijn
welcome drink
daily cleaning of your cabin
supply of bedding, towels, facial tissues, hand soap, soap, shampoo, sewing kit, vanity kit, bathrobe & slippers
culinary care: 8 breakfast buffets, 7 packed lunches and 7 x 3-course dinners
coffee, tea and iced water
services of a tour guide
daily information about the trip of the next day
use of 27-speed bicycle, including a waterproof pannier, towel and universal helmet
we will provide you with your own water bottle
GPS-tracks on most routes
canal, bridge & harbour fees
wine tasting
guided city tour
Your bike & barge cruise does not include:
one dinner
drinks other than mentioned
excursions other than mentioned
inbound and outbound journey
city maps (though a few are available on board)
bike maps
insurance
gratuities
For your comfort we rent electric bikes € 30 each per day, reservations ahead are advisable.
Terug naar overzicht