Terug naar overzicht
Neckar & Rijn, Premium 2-rivieren tour in Duitsland
September 26 - Oktober 03 / 2024
Vertrekdatum: 26 september 2024
Gemiddelde fietsafstand per dag 25 tot 55 KM / Level: Easy
Hoogtepunten
De uitgebreide beschrijving voor deze reis is enkel in het Engels beschikbaar:
Bike, Barge and cruise the charming Neckar river and the mighty Rhine - Surrounded by mountains, vineyards and castles you will cycle your way thru Germany's best kept secrets - Visit the romantic cities of Heilbronn - Heidelberg – Worms – Mainz. Included excursion to the vineyards of Nierstein and a wine-tasting.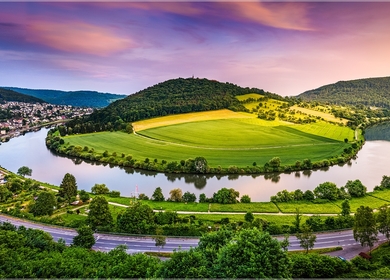 Vertrekhaven:
Ludwigsburg
Bestemming:
Mainz
Reisduur:
8 dagen
Landen:
Duitsland
Gemiddelde fietsafstand per dag:
25 tot 55 KM / Level: Easy
Omgeven door bergen, wijngaarden en kastelen fietst u door de best bewaarde geheimen van Duitsland. Inclusief excursie naar de wijngaarden van Nierstein en een wijnproeverij.
Dagprogramma
Day 1: Ludwigsburg – Marbach
Check in: 3:30 PM – 5 PM Merlijn sails to Marbach, where we stay overnight. We will offer a welcome drink and introduce the crew. Also we inform you about the tour, the ship and give you a safety briefing. Dinner will be during the cruise. After dinner there will be a change to vist Marbach, a charming city on the Neckar river where the famous writer Schiller was born.
Day 2: Marbach – Besigheim – Heilbronn. Bike tour approx. 42 KM
Day 3: Heilbronn – Neckarzimmern – Eberbach. Bike tour approx. 55 KM
Day 4: Eberbach – Heidelberg. Bike tour approx. 32 KM
Day 5: Heidelberg – Ladenburg – Worms. Bike tour approx. 42 KM
Day 6: Worms – Nierstein. Bike tour approx. 55 KM
Day 7: Nierstein – Mainz. Bike tour approx. 25 KM
Your bike & barge cruise includes:
7 nights onboard Merlijn
welcome drink
daily cleaning of your cabin
supply of bedding, towels, facial tissues, hand soap, soap, shampoo, sewing kit, vanity kit, bathrobe & slippers
culinary care: 7x breakfast buffet, 6x packed lunches and 6x 3 course dinners
coffee, tea and iced water
services of a tour guide
daily information about the trip of the next day
use of 27-speed bicycle, including a waterproof pannier, towel and universal helmet
we will provide you with your own water bottle
GPS-tracks on most routes
canal, bridge & harbour fees
mountain tour and wine tasting
Your bike & barge cruise doesn't includes:
one dinner
drinks other than mentioned
excursions other than mentioned
inbound and outbound journey
city maps (though a few are available on board)
bike maps
insurance
gratuities
For your comfort we rent electric bikes € 30 each per day, reservations ahead are advisable.
Terug naar overzicht