Terug naar overzicht
Weser-Landschap tour in Duitsland
In de voetsporen van Theodor Fontane...
Juni 29 - Juli 06 / 2024
Vertrekdatum: 29 juni 2024
Gemiddelde fietsafstand per dag 30 tot 45 km / Level: Easy
Hoogtepunten
De uitgebreide beschrijving voor deze reis is enkel in het engels beschikbaar:
Bike, Barge and Cruise through the 'Weser hills' landscape and along the midland canal in Germany. Bike along the Weser Cycling Route - one of the most popular German cycle routes, and explore the cultural highlights offered by Hannover & Braunschweig (Brunswick). Follow in Theodor Fontane's footsteps, and visit small villages in typical fairytale style. Cruise the Weser River and Midland Canal, as we head away from the standard tourist route. Take a look around the 'Herrenhäusen Gardens' and Autostadt, the home of Volkswagen, through the included tours, and ultimately consider extending your holiday in Bremen, a 1200-year-old Hanseatic city that has much to offer.
Do you want to travel longer on the Merlin? This is an excellent trip to combine with the next Bike & Barge cruise WOLFSBURG - BERLIN, combined your tour will be from Bremen to Berlin and you will travel the Weser & whole Midland-canal connection.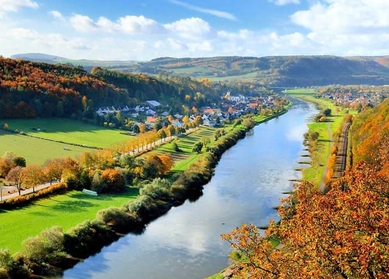 Vertrekhaven:
Bremen
Bestemming:
Wolfsburg
Reisduur:
8 dagen
Landen:
Duitsland
Gemiddelde fietsafstand per dag:
30 tot 45 km / Level: Easy
Fietsen, varen en cruisen door het 'Weser-Heuvellandschap', waar toeristen moeilijk te vinden zijn. Verken de 'Herrenhausen-tuinen' & Volkswagen-autostad. (Entree inbegrepen).
Dagprogramma
Check in: 3:30 PM – 5 PM. Merlijn will set sail for Verden, where we'll stay overnight. We'll present you with a welcome drink and introduce the crew. We'll also inform you about the tour and the ship, and give you a safety briefing. While sailing, you can already see the lovely scenery of the 'Weser Bergland' as we pass by. After dinner, you may want to stroll through the equestrian city of Verden, home to the auctions of the Hanoverian horse, a world famous and powerful German Warmblood breed. Other Verden attractions incude its historical old centre along the Aller River, and the 'Große Straße' (big street) pedestrian area. The Cathedral Quarter at the Lugenstein is another gem with its bars, town hall, 'Domherrenhaus' (Cathedral Chapter House), vintage train and much more.
Day 3: Nienburg – Stolzenau – Minden
Day 4: Minden – Sachsenhagen – Hannover
Day 6: Peine – Braunschweig
Day 7: Braunschweig – Wolfsburg
Your bike & barge cruise includes:
7 nights onboard Merlijn
welcome drink
daily cleaning of your cabin
supply of bedding, towels, facial tissues, hand soap, shampoo, sewing kit, vanity kit, bathrobe & slippers
culinary care: 7x breakfast buffet, 6x packed lunches and 6x 3 course dinners
coffee, tea and ice water
service of a tour guide
daily information about the trip of the next day
use of 27-speed bicycle, including a waterproof pannier, towel and universal helmet
we will provide you with your own water bottle
GPS-tracks on most routes
canal, bridge & harbour fees
all ferry fares en route
entrance fee to the Herrenhäusen Gardens
entrance fee and guided tour of Volkswagen Autostadt
Your bike & barge cruise doesn't includes:
one dinner
drinks other than mentioned
excursions other than mentioned
inbound and outbound journey
city maps (though a few are available on board)
bike maps
insurance
gratuities
For your comfort we rent electric bikes € 30 each per day, reservations ahead are advisable.
Terug naar overzicht
Frankfurt naar Ludwigsburg
September 25 - Oktober 02 / 2021