Terug naar overzicht
Moezel & Saar 3-Landen tour
Duitsland, Luxemburg & Frankrijk aanraken
Oktober 21 - 28 / 2023
Vertrekdatum: 21 oktober 2023
Gemiddelde fietsafstand per dag 35 tot 45 km / Niveau: Gemakkelijk
Hoogtepunten
De uitgebreide beschrijving van deze reis is enkel beschikbaar in het engels:
Bike, Barge & Cruise the charming Moselle, touching three countries. Fall in love with the French countryside and German mountains while cycling along the Moselle River on solid bike paths, and sample nectarean Luxembourg wines while visiting a wine cellar. Explore the ancient French cities of Metz and Thionville, and enjoy a guided tour in the former Roman city of Trier. Your other stops include the famous Bernkastel with its magnificent framework houses, the 'black cat' city of Zell and romantic Cochem.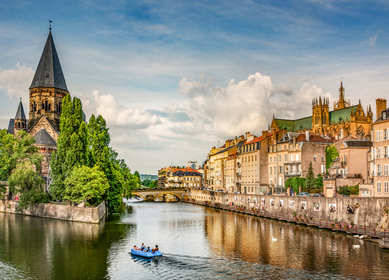 Vertrekhaven:
Nancy/Frouard
Bestemming:
Cochem
Reisduur:
8 dagen
Landen:
Frankrijk, Luxemburg, Duitsland
Gemiddelde fietsafstand per dag:
35 tot 45 km / Niveau: Gemakkelijk
Fiets & Cruise langs de Moezel, in Duitsland, Luxemburg & Frankrijk. Word verliefd op het Franse platteland en de Duitse bergen. Wijnproeverij inbegrepen.
Dagprogramma
Day 1: Nancy/Frouard - Pont-á-mousson
Frouard is a small town (and the nearest port) just outside Nancy.
Check in: 3:30 PM – 4 PM We will offer a welcome drink and introduce the crew, as well as inform you about the tour and the ship, and offer you a safety briefing. At 5 PM, Merlijn will set sail for Pont-á-mousson. After dinner you can enjoy an evening walk.
Day 2 : Pont-á-mousson - Metz. Bike tour approx. 45 km
Day 3: Metz – Richemont - Remich. Bike tour approx. 44 km or short route 35 km
Day 4: Remich - Trier. Bike tour approx. 45 km
Day 5: Trier. Bike tour approx. 58 KM
Day 5: Trier – Mehring – Bernkastel – Traben-Trarbach. Bike tour approx. 45 km
Day 7: Traben-Trarbach – Zell - Cochem. Bike tour approx. 35 km
Your bike & barge cruise includes:
7 nights onboard Merlijn
welcome drink
daily cleaning of your cabin
supply of bedding, towels, facial tissues, soap
culinary care: 7 times breakfast buffet, 6 times packed lunches and 6 times 3 course dinners
coffee, tea, hot chocolate and ice water
we will provide you with your own water bottle
service of a tour guide
daily information about the trip of the next day
use of 27-speed bicycle, including a bike bag, towel and helmet
canal, bridge & harbour fees.
wine cellar visit in Luxembourg
guided city tour Trier
Your bike & barge cruise doesn't include:
one dinner
drinks other than mentioned
inbound and outbound journey
city maps (though a few are available on board)
bike maps
insurance
gratuities
For your comfort we rent electric bikes for € 30 each per day, reservations in advance are advisable.
Terug naar overzicht