Zurück zur übersicht
Tour West trifft Ostdeutschland
'In die Fussstapfen Theodor Fontanes treten".
Juni 03 - 10 / 2023
Abreisedatum: 03 juni 2023
Tägliche route abstand 25 bis 50 km
Höhepunkte
Die detaillierte Beschreibung dieser Reise ist nur auf Englisch verfügbar:
After plotting out this trip, we needed a new slogan because Bike & Barge didn't match this overall theme, so we've named it 'Bike & Culture", representing its perfect blend of biking and culture!!
Bike & Culture your way from east to western Germany. Cycle along the cultural Transromanica bike route, and tour Brandenburg. Explore the cultural highlights on offer at Magdeburg, Brandenburg and Potsdam. Follow in Theodor Fontane's footsteps and visit small villages in typical March style. Explore the cradle of the Prussians, and cruise the Midland Canal, the Havel river, and the lakes surrounding Berlin.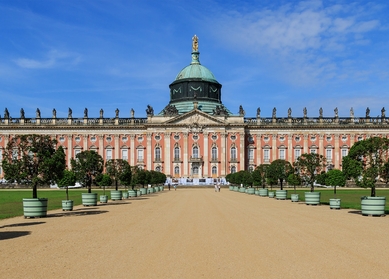 Abreisehafen:
Wolfsburg
Bestimmung:
Berlin/Spandau
Reisezeit:
8 tage
Länder:
Deutschland
Tägliche route abstand :
25 bis 50 km
Nach der Gestaltung dieser Reise brauchten wir einen neuen Slogan, weil Rad & Schiff die Ladung nicht abdeckte! Wir nannten ihn: " Rad & Kultur".
Tagesprogramm
Check in: 1:30 PM – Drop off your luggage and cross the canal via the bridge. There, you will find 'Autostadt': the home of Volkswagen. You can explore the museum on your own, and later there will be a 45 min. guided tour through the park.
4 PM - You are welcomed on board, and we will show you your room, offer a welcome drink and introduce the crew. Also we'll inform you about the tour and the ship, and give you a safety briefing. After your meal, there will be time to take an after-dinner walk through the city of Wolfsburg in the evening, where we will stay overnight.
Day 2 (Sun): Wolfsburg - Calvörde - Magdeburg
Day 3 (Mon): Magdeburg – Burg - Genthin
Day 4 (Tue): Genthin – Brandenburg
Day 5 (Wed): Brandenburg – Werder – Potsdam
Day 6 (Thu): Potsdam extra day
Day 7 (Fri): Potsdam – Berlin Spandau
Your Bike & Culture cruise will include:
7 nights on board Merlijn
welcome drink
daily cleaning of your cabin
supply of bedding, towels, facial tissues, hand soap, soap, shampoo, sewing kit, vanity kit, bathrobe & slippers.
culinary care 7 x breakfast buffets, 6 x packed lunches and 6 x 3-course dinners
coffee, tea and iced water
services of a tour guide
daily information about the trip of the next day
use of 27-speed bicycle, including a waterproof pannier, towel and universal helmet
we will provide you with your own water bottle
GPS tracks on most routes
canal, bridge & harbour fees.
all ferry fares en route
entrance and guided tour of Volkswagen Autostadt
entrance to Sanssouci castle or similar
Your Bike & Culture cruise does not include:
1 x dinner
drinks other than those mentioned
inbound and outbound journey
city maps (though a few are available on board)
bike maps
insurance
gratuities
For your comfort, we rent out electric bikes at € 30 each per day, reservations in advance are advisable.
The general terms and conditions of Merlijn de magie van water B.V. apply to all bookings, offers and agreements. Please find them on our website under 'Terms & Conditions'.
Merlijn complies the General Data Protection Regulation to protect your privacy. Please find them on our website under 'Privacy statement'.
We reserve the right to modify schedule and/or program. If (part of) the route is not navigable due to weather conditions and/or other nautical reasons and/or is closed off due to circumstances and/or for safety reasons, the operator and/or the captain has the right to change the schedule. This includes changing the location of departure and/or arrival and temporarily suspending departure. Nautical and/or meteorological reasons are understood to mean, among others, weather conditions, the tide, obstruction of waterways/shipping lanes, and the condition of the ship. Closed off due to circumstances and/or safety reasons are understood to mean, among others, terrorism, diseases, natural disasters. Changes in schedule and/or program do not give the customer the right on free cancellation.
Zurück zur übersicht
Frankfurt zu Ludwigsburg
September 25 - Oktober 02 / 2021